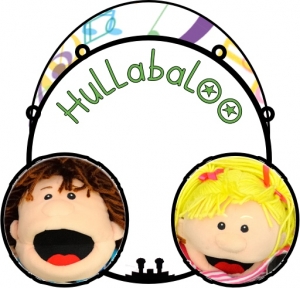 Welcome to Hullabaloo!
Ages 0-5 years.
Classes in Haddington, East Calder & Balerno.
At Hullabaloo carers and children enjoy singing and playing together. Babies are welcome as soon as the adult feels ready, and children can attend right through until their pre-school year.
The focus is on having fun with lots of colourful and (of course) musical things to see, hear and play with.
Our teachers are qualified musicians and will play live music for you every week. The class structure is designed to develop early music skills – a sense of beat, rhythm and pitch – and as the children get older they meet a family of friendly puppets who help them to turn these skills into basic music theory.
Hullabaloo is a great fun class, but just as importantly it will provide many other benefits to your children. During class they will:
Learn about and to listen to music, to appreciate it and to enjoy it, to join in and to have fun with each other.
Develop many other skills linked to music like language and communication, co-ordination, memory and counting.
Become more creative and sociable by playing instruments, singing, dancing playing games and sharing their experiences with the other children in the group.
Please feel free to contact us directly if you'd like any more information, a general chat about classes or to book your FREE trial.